Today has been a very long day. We woke up a little late at 5:45am but made it out the door on time. After taking the 6:30 train, we arrived at the station, walked to the stop and were right on time for the 7:30 bus. (Thank goodness. We did not want to miss it again after last time.) It was a three hour drive from Nagoya to Kyoto. Allen and I spent the time trying to secure a hotel for all three of is in the city following Kyoto, Nara.
We arrived in Kyoto at a tiny bus stop in the middle of a small bridge. We trekked down to the nearest train station and took the rail to Kawaramachi Station, a station halfway between our ryokan (traditional Japanese hotel) and Alaina's hostel. I immediately noticed a difference getting on the rail in Kyoto. The trains in both Tokyo and Nagoya are what you'd expect subway trains to look like: metal, hard plastic, neutral colors mostly. They feel modern as do the people that ride them. I have seen people in Tokyo and Nagoya wear casual clothes but it's all done in a stylish manner. Most people are trendy there. In Kyoto, the inside of the rail car had a wooden interior with brown tile flooring. It echoed an older generation and set the mood for the old capital. The people riding it were dressed so much more casually. Slouchy t-shirts and pants, comfortable clothing, sandals: it was rather refreshing. They seemed more human than the herd of business people and high fashion of Tokyo.
Allen and I went to find our ryokan and ran straight into a mob of people. Unknowingly we had arrived at the second part of a festival. We stopped to watch the parade of floats. Each float is created anew each year and made without the use of nails (for religious/spiritual reasons). These large floats are completely moved by man power. Dozens of men holding thick ropes pull them through the streets. Once they got to the main intersection we were at, they had to spin the floats in a full circle (sometimes 45 ° at a time). Then purification water is splashed on the float while Shinto priests chant.
This particular festival is one of the longest consistently run ones in Japan. It has been performed every year since 970AD.This festival started as an answer to a plague that was sweeping the country. The idea is to take the Gods from their shrine and show them around the city before placing them back in their home shrines once more. It is both a purification ritual and a way to appease the gods. We found out later that for this matsuri a small boy is chosen as a divine messenger (temporarily) and he can't touch the ground for several days preceding the festival. We didn't get to see him though.
Some floats had their own musicians riding inside. I love the guys hanging out on the top. I don't know if they're job is to make sure nothing goes wrong with the tree or maybe we missed something that happens later on. 
Here they are preparing to turn the float again at the intersection. Police stand by to keep the street clear of pedestrians. 
We wound our way to our ryokan after that. It was too early for check-in time but they allowed us to drop off our bags so we could go and sight see. They were so nice there! It was a family run business of two sisters and their mother.
On the way to the Ryokan…
A little styrofoam home for some fishies.

After dropping our bags off (we had rejoined with Alaina at this point), we went to the old shopping district of Nishiki Market. There we had okonomiyaki but it was a little disappointing. I liked mine better. This was sort of bland and mushy. Okonomiyaki, by the way, is a sort of pancake pizza creation with its main ingredients being cabbage and flour. There's a lot of variety between regions on what other ingredients are included but there's usually a meat like pork belly and often thin slices of ginger.
Shijo Dori: one of the main streets in Kyoto.
A little model set we found in a store front of the parade floats.
The famous Nishiki Market, an indoor shopping district filled with restaurants, shops, and a fish market.
A shop in the Nishiki Market selling tea and tea cups. 
One of the branching alleyways in Nishiki Market.
Okonomiyaki cooking on a grill.
We then stopped at a Game Center (the word for arcade here). Alaina wanted to check out the UFO machines. Allen won me a little orange cat plush. On the way back to the station we got some shaved ice or kakigori in Japanese. Allen liked it so much he wanted it for dessert after dinner too. They let us make it ourselves, which at first was confusing but then fun. It's nothing like a snow cone. They put a lot more in their shaved ice like layers of syrup, fruit, ice cream, milk, and even yogurt or chocolate syrup. Their ice machines shave the ice finer as well. It's less crunchy and more melt in your mouth which goes well with all the milk products.
One of the many aisles of UFO machines in the Game Center.
A giant crab cause he's amazing.
The restaurant we got to make our shaved ice at. Okay, you got me. This is a Street View image from GoogleMaps but I had to find it again to mark the momentous beginning of Allen's Kakigori Quest. I wish I had gotten a real picture of it.
Finally, after all that we went to Arashiyama, an area that's mostly a park with some scattered temples and old fashioned merchant districts. We headed there on the Hankyu line and then had to walk a ways to reach the heart of the park.
The platform at Hankyu Arashiyama Station. 
We had to cross through a neighborhood or two to get to the river and the tourist attractions.
Our first sightings of the Katsura River.
Our first stop, since it was near closing time, was Iwatayama Monkey Park. We were slightly deceived in the matter. It looked on the map as if the Monkey Park was right around the corner but it wasn't until after we bought the tickets that an attendant said it was a twenty minute walk and gestured to a rising mountain path. It was pretty steep and I kept retaining this hope that it'd be right around the bend. (It was a pretty walk though.) But no. It was on top of the mountain. On the top. Once we got up there though, the views more than made up for it. Kyoto stretched out below you with forested mountains protecting it on all sides.
The beginnings of a shrine near the entrance of the Iwatayama Monkey Park. 
Up we go. Let Coke Light fuel the way.
It was a beautiful walk. I've always loved being surrounded by trees.
Okay, can I just say from Future Melita that has now traveled all of China: This was a hill not a mountain. What a total baby I was. Sheesh. 
There was a bench half way up with an electric fan pointing towards it and I was tempted to stay there forever. I'm impressed they ran the electric cables that far.
View of Kyoto from Iwatayama Monkey Park.
Allen was also pleasantly surprised. I knew already, but the Macaque monkeys roam freely around you there. No cages. They walk within inches of you but they're still unpredictable and wild so you have to be careful. Apparently Alaina hates monkeys so she was not amused. (Actually she was kinda scared/pissed when one came towards her. I'd never seen her move so fast in her heels before. She really hates them, but it was a little funny in a Schadenfreude kind of way.)
There was a building there with wire fencing where you could buy some apples or peanuts for a dollar and feed the monkeys. The Macaques would stick their arms through the grating and just leave them there waiting for you to feed them. It reminded me of a McDonald's drive through a bit. It was neat to feel their little palms against yours. We fed them apples. After spending quite a while there we trudged back down the mountain.
Here's a quick video of feeding the monkeys at Iwatayama Monkey Park. There's a weird cut halfway through because I'm so brilliant I decided to flip the camera while filming. Yeah, somehow I just thought it would right itself like a tablet camera. Idiot.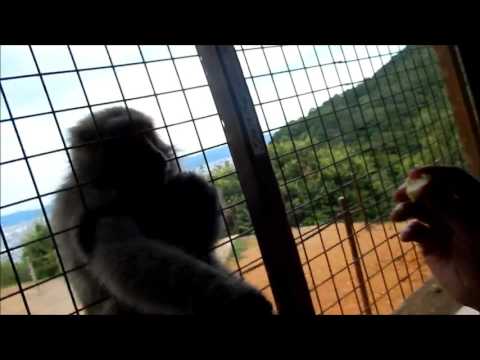 Heading back down…
A little friend Allen found. I didn't take a very good picture though.
Back near the Katsura River.
The cars are so cute and tiny in Japan.
Crossing over the Togetsukyo Bridge to explore more of Arashiyama.
The temple was supposedly closed in Arashiyama but we accidentally walked through the grounds anyway. A monk was chanting in a closed shack on the grounds and I wondered if it had something to do with the festival we saw earlier.
A lotus pond on the temple grounds.

Then we wrapped back around through the shopping district and on to the Bamboo Forest. It was a little dark in the bamboo but I liked it. The feeling of quiet and solitude made me want to live there…until more tourists walked around the bend.
Alaina and I waiting for Allen to catch up. 
A couple restaurants on the main road in Arashiyama.
The start of the Bamboo Forest and some exiting tourists. 
The Bamboo Forest was incredibly dark. I'd never seen trees block out the sunlight quite so well before. 
You could see the edge of a graveyard halfway through the forest.
A shrine was hidden in there as well. 
A railroad that cuts through the forest.
The end of the trail loops back around to the main road.
We made our way back to Central Kyoto after that. I was so tired. I felt dead but Alaina and Allen were hungry. The end of the day dragged on for me. We had to walk back to our hotel, grab Alaina's bags that she stored there, and then we walked back to the station area. We wandered around trying to agree on a place to eat. (Or rather they did. I just got progressively more grumpy and sleepy. Hunger even escaped me at that point.) We finally found a place, ate, and Allen and I were on our way back to the hotel around 9:30PM.
On the way back to the Hankyu Arashiyama Station. 
The room at the ryokan is super cool, but I haven't taken any pictures yet. I'm about to go soak in the tub since my feet are killing me after walking all day. So yes. Very long day filled with mostly ups but some hectic downs (mostly due to transiting). I'm looking forward to sleeping tonight. (When am I not?) We've agreed to meet Alaina at 9AM. (She wanted 8AM. Ha ha ha ha ha.) Tomorrow's going to be another full day! Goodnight!
FOOD INSTALLMENT:
Okay, so here's the second food installment! More detail shots on our lunch of Okonomiyaki. Here they are cooking on the grill.
I believe mine had pork, Allen's had octopus, and Alaina's had corn and kimchi. I know there were other ingredients I'm forgetting. Mine first with the layer of Okonomiyaki sauce I soaked on it. 
Here's Allen's:
And Alaina's, which we all agreed afterwards was the best:
Dinner is a perfect example to showcase my feelings about Japanese cuisine. Some of it looks delicious, other parts look iiinteresting, and a good chunk of it is 'Well, I've never seen that before'. Don't get me wrong, I love sushi and who can say no to fried things but once you start rooting around in the rest of Japanese food, well…it gets…experimental. I did try everything and I liked more than I thought I would based on first impressions. That being said, I found that regardless of your feelings, your stomach gets really confused trying so many new flavors and textures. At least, mine did. At some point it just sort of figuratively put it's head in its hands crying "I don't know if I like it. I just don't know anymore!"
So here was Allen's dinner. I'm not even going to try to describe what it is aside from a sampler. His drink was pretty good though with mango, berries, and jelly bits.